Enterprise Mobility + Security E5 includes new and advanced security capabilities that make up our holistic and innovative approach to security for the mobile enterprise. Some E5 capabilities were previously only available as standalone products, such as Microsoft Cloud App Security, or as products in preview, such as Microsoft Azure Active Directory Identity Protection, Azure Active Directory Privileged Identity Management, and Azure Information Protection. Download Office 365 Enterprise E5 for Windows to empower your people with the latest collaboration services and get the IT control and flexibility you need to run your business. Office 365 E5, $35.00 user/month (annual commitment). All the features included in Microsoft 365 Apps for enterprise and Office 365 E1 plus security and compliance 1. Office 365 E5 is a cloud-based suite of productivity apps combined with advanced voice, analytics, security, and compliance services. Install Office mobile apps on up to five PCs or Macs, five tablets, and five phones per user.
SKU: CSP-ELIT-a3a3b506fac2 Item: CSP-ELIT-a3a3b506fac2
Active/Inactive: Active
Licensing Program (?)
CSP
1-3 day Electronic Delivery
All new capabilities combined with Office apps means there's never been a better time to get the most comprehensive Office 365 offering. Now you can simplify your infrastructure with one platform for calling, conferencing, video, and sharing. Easy-to-use live data monitoring and in-depth analysis tools let you discover new stories in your data with even more interactive reports, simpler dashboards, and compelling data visualizations.
Ask an expert
You can also IM us via Skype for Business / Microsoft Teams or start live chat by pushing the button below
Office 365 Enterprise E5 includes:
Familiar Office tools
Office suite
Includes Office apps for your PC and Mac.
Always have the latest versions of: Word, Excel, PowerPoint, Outlook, OneNote, Publisher, SharePoint, OneDrive, Microsoft Teams, Access.
Capture your ideas however you work best—using a keyboard, pen, or a touchscreen.
Easily format information in Excel with tools that recognize your pattern and autocomplete data.
Easily incorporate content from PDFs to create your own great-looking Word documents.

Office on PCs, tablets, and phones
Enjoy a fully installed Office experience across PCs, Macs, Windows tablets, iPad® and Android™ tablets, and most mobile devices. Each user can install Office on 5 PCs or Macs, 5 tablets (Windows, iPad, and Android), and 5 phones.
Plus these online services
Online Meetings
Host online meetings with audio and video using one-click screen sharing and HD video conferencing.

Meeting Broadcast
Broadcast meetings on the Internet for to up to 10,000 people, who can attend in a browser on nearly any device. Meetings include real-time polling and sentiment tracking, plus Yammer, to enable dialogue during the broadcast.

Audio Conferencing
Enable attendees to join from any telephone by dialing a local access number, and dial out from a meeting to add others when needed. The dial-in capability is an addition to single-touch join options on PC, smartphone, and browser, and allows people to join an online meeting even in places with no Internet access. Consumption rates are available.

Modern voice with Phone System
Make, receive, and transfer business calls in the office, at home, or on the road, using phone, PC, and mobile without the need for a traditional phone system. Choose Calling Plan delivered by Microsoft where available, or use existing phone lines at your locations.

Instant messaging and Skype connectivity
Communicate using messaging, voice calls, and video calls, and let people know your availability with your online status.

Hub for teamwork
Empower your firstline workforce with Microsoft Teams to plan schedules, assign tasks and connect to other work-related apps and resources.

Email and calendars
Use business-class email through a rich and familiar Outlook experience you can access from your desktop or from a web browser. Get a 100 GB mailbox per user and send attachments up to 150 MB.

Advanced email
Use archiving and legal hold capabilities, plus unlimited storage, for compliance needs. And use data loss prevention (DLP) policies and policy tips that educate your users for additional compliance enforcement in email.

Document and email access control
Rights Management Services enable you to restrict access to documents and email to specific people and to prevent anyone else from viewing or editing them, even if they are sent outside the organization.

Message Encryption
Apply flexible out-of-the-box encryption policies like Encrypt Only and Do Not Forward, and read protected messages in Outlook while messages sent to non-Office 365 users can be read using Google, Yahoo or a Microsoft identity. Plus, control your encryption keys in Azure Key Vault.

Advanced information protection
Data loss prevention and encryption across Exchange Online, Skype for Business, and SharePoint Online help keep your content safe in email, IM, meetings, and team sites.

Threat intelligence
Threat intelligence provides broad visibility into the threat landscape, which helps deliver actionable insights, and enables proactive cybersecurity to ultimately help reduce your costs.

Advanced security
Advanced Threat Protection helps defend users against sophisticated threats hidden in emails, attachments, and links. It also provides broad visibility into the threat landscape, which helps deliver actionable insights, and enables proactive cybersecurity to ultimately help reduce your costs.

Analytics tools
With the live dashboards and interactive reports of Power BI Pro non-technical users can visualize and analyze data with greater speed, efficiency, and understanding.

File storage and sharing
Get unlimited OneDrive storage that can be accessed from anywhere, on any device. Easily share documents with others inside and outside your organization and control who can see and edit each file.

Intranet and team sites
Inform and engage your organization and connect people to content, expertise, and processes with team sites. Tell your story with beautiful communication sites.

Productivity Insights
With the add-in for Outlook and interactive dashboards, Microsoft MyAnalytics helps you work smarter by surfacing productivity insights based on your recent collaboration behavior in Office 365.

Corporate social network
Yammer collaboration software and business applications allow your employees to connect with the right people, share information across teams, and organize around projects so they can go further, faster.

Office Online
Create and edit Word, OneNote, PowerPoint, and Excel documents from a browser.

Work management
Planner makes it easy for your team to create new plans, organize and assign tasks, share files, chat about what you're working on, and get updates on progress.

Professional digital storytelling
With Sway, a new Office 365 app, you can easily create engaging, interactive web-based reports, presentations, newsletters, trainings and more—right from your phone, tablet, or browser. Sways are easy to share and look great on any screen.

Mobility
Sync email, calendar, and contacts; access SharePoint sites; view and edit Office documents with Office Online using a browser on Windows Phone, iOS, and Android devices.

Enterprise management of apps
Simplify management of apps in your organization with Group Policy, Telemetry, and Shared Computer Activation.

Intelligent search and discovery
Unlock creativity in your organization with search across Office 365 based on personalized insights. Discover content and expertise with the power of the Microsoft Graph, using your connection and collaboration patterns. Access intelligent search across a range of experiences, including SharePoint, Delve and Office applications.

Enterprise video service
Create, manage, and share videos securely across your organization. Microsoft Stream makes it easy for everyone to collaborate with video to stay connected to the content that matters most.

Voicemail integration (Unified Messaging)
Hosted voicemail support with auto-attendant capabilities. Voicemails are recorded to Exchange Online and users can access them from Outlook, from a web browser, or a compatible mobile phone.

Intelligent compliance solutions
With the Security and Compliance Center, you can intelligently achieve organizational compliance and protect your data with Office 365 using integrated solutions for eDiscovery, Data Governance, and Auditing.

Apps for Office and SharePoint
New third-party and customer-developed apps work with Office and SharePoint to bring web services right into your documents and sites.

Workflow automation
Build automated workflows between apps and services to get notifications, synchronize files, collect data, and more with Microsoft Flow – no coding required.

Web and mobile app development
Quickly build and publish custom business apps for web and mobile with PowerApps. Choose from templates or start from scratch to extend your business data – no coding required.
Add-on services
Calling Plan
Subscribe to Calling Plans from Office 365 and use existing phone numbers or get new ones. Add Calling Plan to Office 365 Enterprise E5 for $24.00 user/month, annual commitment. The $24.00includes both international and domestic Calling Plans. Domestic only Calling Plans are available for $12.00. Tax is included in price. Consumption rates are available.

Multi-Geo Capabilities in Office 365
Manage your global data residency needs and drive the digital transformation of your organization with per-user data location controls in Office 365. Multi-Geo is now available for Exchange Online and OneDrive.
Encryption services
Customer Key
Provide and control your own cryptographic keys to encrypt Office 365 data at rest in the cloud to help meet your compliance needs. Because you control these keys, you can revoke them to make your cloud data unreadable and to initiate data deletion.
All Office 365 Enterprise plans include:
Reliability
Get peace of mind knowing your services are available with a guaranteed 99.9% uptime, financially backed service level agreement (SLA).
Security
Cutting-edge security practices with five layers of security and proactive monitoring help keep customer data safe.
Privacy
Your data is yours. We safeguard it and protect your privacy.
Administration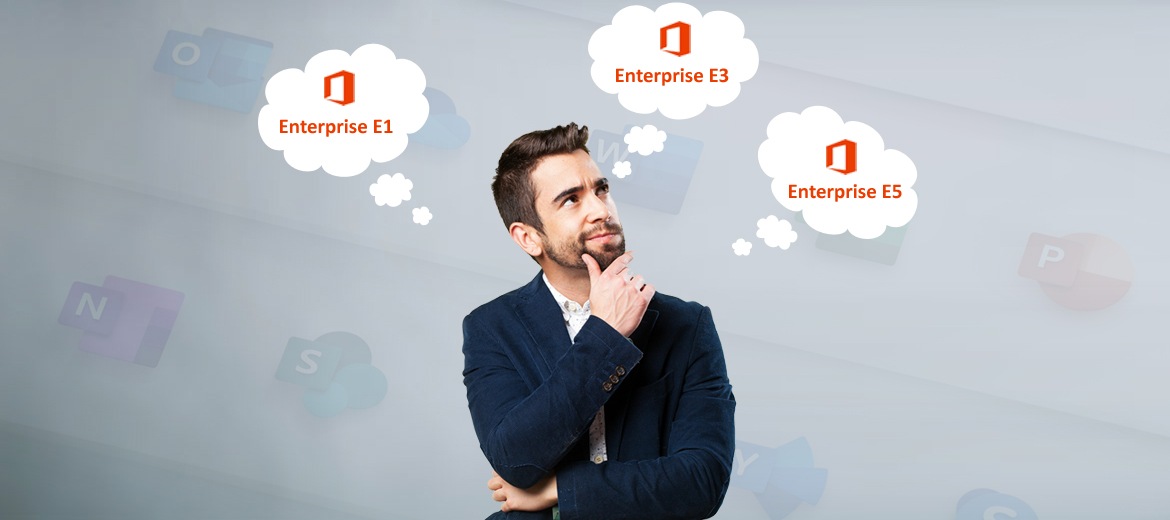 Office 365 Enterprise E5 Download
The admin portal provides IT detailed configuration options for your services, either from an online portal or through automated management with PowerShell commands. You can use the Admin app to manage your services on the go.
Project For Office Plan E5
Up to date
No need to pay for version upgrades; updates are included in your subscription. New features are rolled out to Office 365 customers in an IT-configurable experience.
Active Directory integration
Manage user credentials and permissions. Single sign-on and synchronization with Active Directory.
Support
24/7 phone support for all IT issues. For less urgent issues, you can make service requests directly through the admin portal.
Useful Links:
Office 365 Enterprise E5
Related Products:
Microsoft 365 E5 Security Add On
Related Files: